Monty the Mandarin Framed & Mounted Print
Regular price
Sale price
$50.00 USD
Unit price
per
Sale
Sold out
Mandarin ducks are so impressive and vibrant with their stunning array of colours. I was inspired to paint Monty after spotting him near my home last winter. During a very cold snap of weather the stream running along our garden had frozen over. Amongst all the dark mallards was this magnificent oriental duck!
Against the backdrop of a grey cold winters day the vision of this bright, bold Mandarin duck really warmed my heart.  Monty impressively stands out from the gold, just as he does from the Mallards on the river! The radiant backdrop of golden hues exude luxury, warmth and joy.
Mandarin ducks are symbols of love and fidelity and are often used as a feng shui cure to help maintain a healthy relationship.
This stunning and enchanting print is on premium, fine art paper with a gently textured surface. The frame is a simple and elegant design. Created from high-quality wood, milled with simple clean lines and presented with a satin finish. Includes an off-white mount that will not discolour or fade with age.
- Handmade by specialist picture framers
- FSC certified off-white mat / window mount
- Delivered ready for hanging
- PLEASE ALLOW 7 - 10 DAYS FOR DELIVERY
Share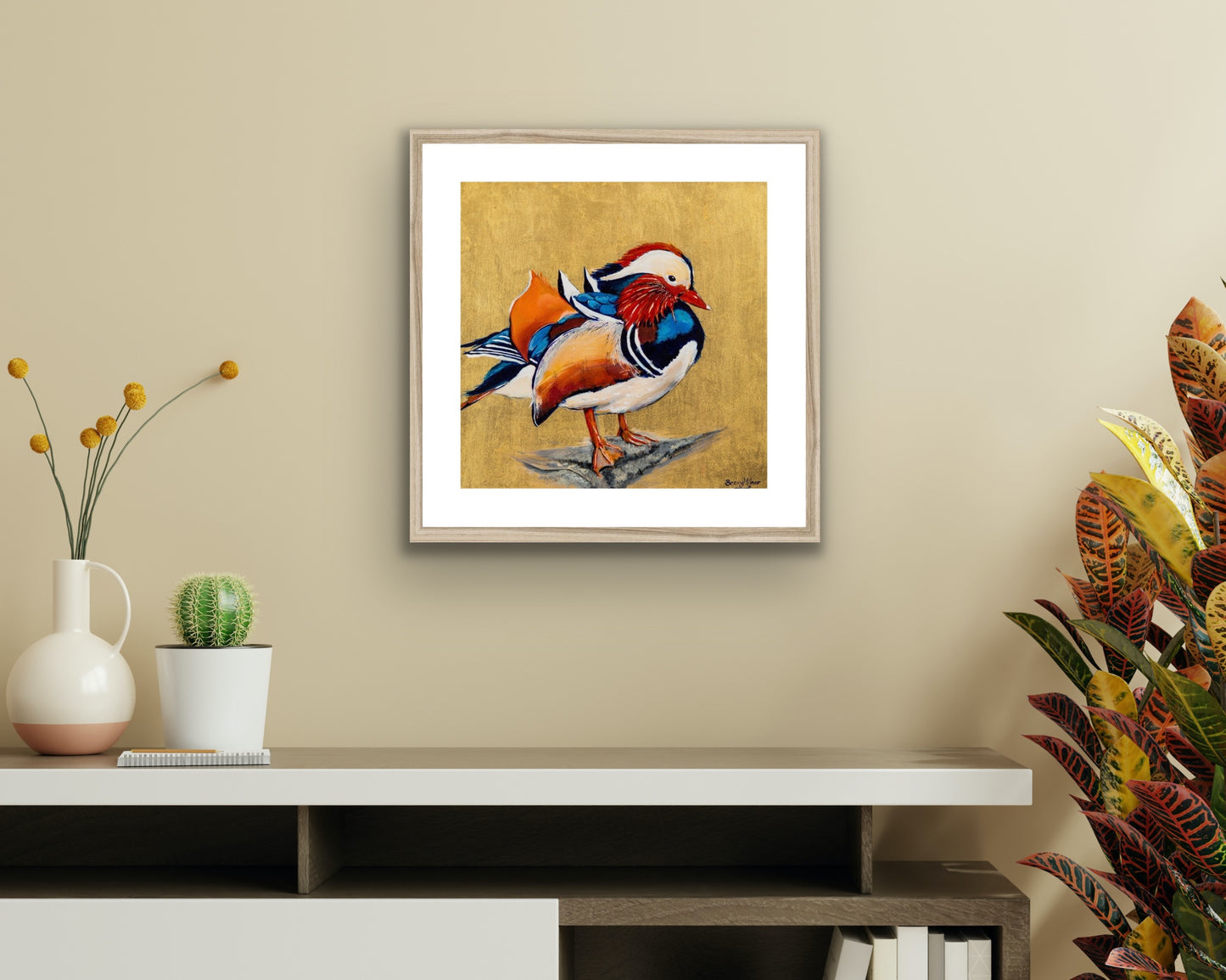 Looks great!
Will be looking to get another from Becky Milnor Art.
Absolutely beautiful print
I fell in love with Estelle the Kingfisher immediately, such gorgeous colours and I loved the pink flowers against the gold background. The print arrived really quickly and is such good quality it could easily be mistaken for the original painting. I love your work Becky, Estelle is a beautiful addition to our house.
Pierre The Peacock
He is an absolute stunner - very handsome and engaging! ….. I bought this for a friend, she will love it,- if she gets to receive it….now, undecided …I think Pierre may want to stay where he is?!
The print has such vibrant colours, it is beautifully mounted, it is so hypnotic, Pierre really 'looks' into your eyes -a very provocative piece of artwork…. Becky is very talented xx
Reviews of original art
Beautiful painting!

"I am so delighted that I bought a Becky Milnor original. The gold brings a vibrancy and opulence which is so impressive. I was bowled over by the beauty of the painting."

Harriet Palmer

This painting is a treasure!

"I am completely in love with Clariisa the Crane. I love the hues of Clarissa's plummage against the vibrancy of the moon and the delicacy of the grasses. Thank you so much Becky, this painting is a treasure."

Jacqueline Ricketts

Amazing service

" WOW! In the flesh it's even better, I didn't think that was possible! It is really, really wonderful. The frame is also fantastic. I really, really love it."

Lisa Sutcliffe